Ice Fishing In Vermont
Mid January through February are a real test in Vermont. Many people tend to hunker down and let a little cold defeat them completely content with their Netflix subscriptions and pints of Ben And Jerry's Ice cream. But others know that this is the time of the year that offers many choices in outdoor activities. While many enjoy hitting the local mountains at Stowe or Smugglers Notch, my group of friends loves getting out on the ice and catching some fish. Lake Champlain offers an amazing Ice fishing experience with numerous species to catch. We tend to focus on going after Lake Trout or Walleye. These may be a little harder to catch but its well worth the reward. You also see many anglers setting up for Northern Pike or Salmon. The options are almost endless especially if you are just looking to pan fish targeting perch, bluegill, sunfish and crappie. While I do have to stick to the fishermen code and not reveal our spots, I can say just going out and getting set up somewhere in Malletts Bay is almost fail proof. In one small body of water you can find all species we have to offer making any potential fish a mystery coming up to the hole .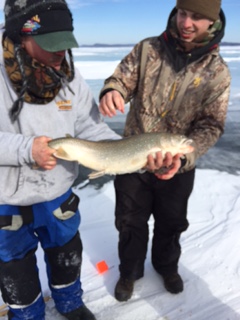 One of the distinctions that sets Lake Champlain apart is the number of Tip-Ups you are allowed to have set up. On Lake Champlain you can have 15 Tip-Ups per person which is huge compared to some other areas and states that may only allow 3-5 per person. I was never the best at math but I do know 3 times the number of lines out should equal more fish. For those wondering a Tip up is a reel attached on wood that sits in the hole in the water. When a fish bites the bait and spins the reel it will trip the spring loaded flag into the air alerting you that you have a fish. From there, its usually a free for all to which one of us makes it it the hole first in order to claim the fish. We drill holes in long straight lines and run our tip ups. Often we have enough people to have 60+ set up. Whether hunting or fishing we always believe in "go big or go home". I am not going to lie, ice fishing takes a lot of time and patience to be successful. It is a lot of work the way we fish and with as much gear that's needed. But I cannot even begin to describe how much fun it is to be out there with a group of buddies catching a bunch of fish and having a blast on a nice winter day. Luckily we have evolved and learned since we first started. We now sport a vintage 1967 16 foot long camper as our home away from home. While she may not be the nicest thing to look at, she keeps us warm and out of the wind. Best of all the camper even has a functioning stove which allows us to cook hot meals while out there. So fish or no fish. we wont go hungry. Get out there and give it a chance. No pun intended but once you get started you really will be hooked!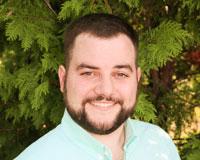 Author:
Ryan Miller
Phone:
802-999-6983
Dated:
January 29th 2015
Views:
284
About Ryan: Coming from a family with countless years of real estate experience, I knew my calling early. After ...